Ubiqod professional QR code generator
The Ubiqod software platform is much more than a QR code generator: it allows companies to manage the entire code lifecycle in a centralized and efficient way.
Whether it's for staff clocking in and out, proof of completion, asset tracking or customer satisfaction measurement, it offers a turnkey solution for creating, organizing and administering thousands of QR codes.
It offers unique benefits for professionals:
Geofencing (validation of GPS position) to avoid cheating and locate users.
PIN code protection to restrict use to authorized persons.
Pre-configured mobile interfaces for the most common uses: no need for web page management tools or to develop or install an App.
Templates to create thousands of QR codes on the same model.
Ubiqod is linked to your usual professional tools by connectors. You can retrieve data from your ERP, your CRM or even your Excel tables.
QR code generator : which use cases ?
Scoring and proof of performance
QR code-based check-in and proof of execution solutions are particularly cost-effective. They do not require specific applications.
On site, the user scans a code with his personal or professional smartphone, and selects the arrival or departure button, and his personal code (optional). The presence is secured by geolocation or by the patented Ubiqod Key device.
The data is then sent to the software of your choice through our connectors.
Asset tracking and location
Asset tracking in the field is a major issue for industry and facility management actors. With the professional QR code generator integrated to Ubiqod, you can create a tracking QR code for each asset in a few clicks.
When a user scans the generated QR code, he will be able to geolocate the asset and enter information about it with a simple click: maintenance operation, cleaning… He will also be able to read the status of the asset, for example to know if it is covered by a service contract.
On-demand services
More and more, services based on fixed frequencies are being replaced by on-demand services. With the Ubiqod QR code generator, you can create a mobile interface allowing your customers and users to request an intervention or a service. You will also be able to track the activity for control and billing purposes in your usual tool. Only by a few clicks.
Designed to handle thousands of QR codes
The Ubqiod platform offers much more than a way to generate QR codes: it opens new possibilities to better manage your operations in the field.
Mass printing
With Ubiqod, generate, print and manage thousands of QR codes.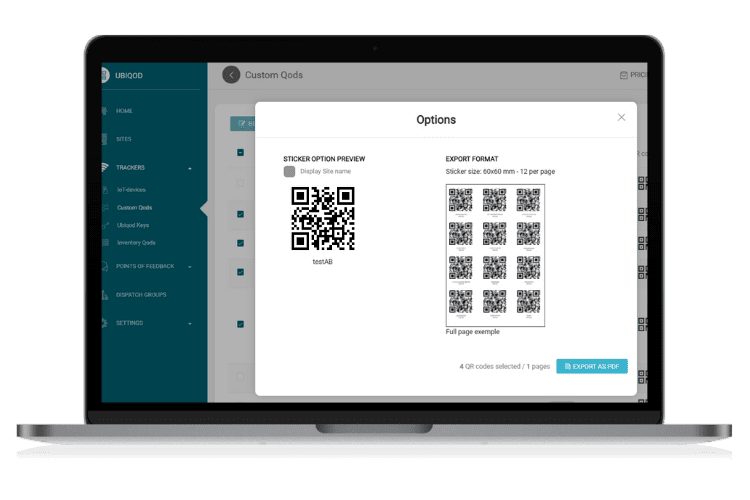 Put your labels in the printer, select your format, and click "print" to generate your QR codes in bulk.
Management by sites
QR codes are grouped by sites, for a simplified management.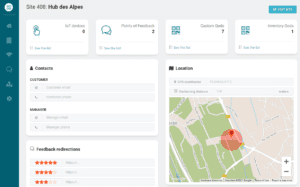 With geofencing, secure the use of QR codes by ensuring that users are where they say they are.
Integrated interface generator
Ubiqod generates interfaces associated to QR codes in a few clicks.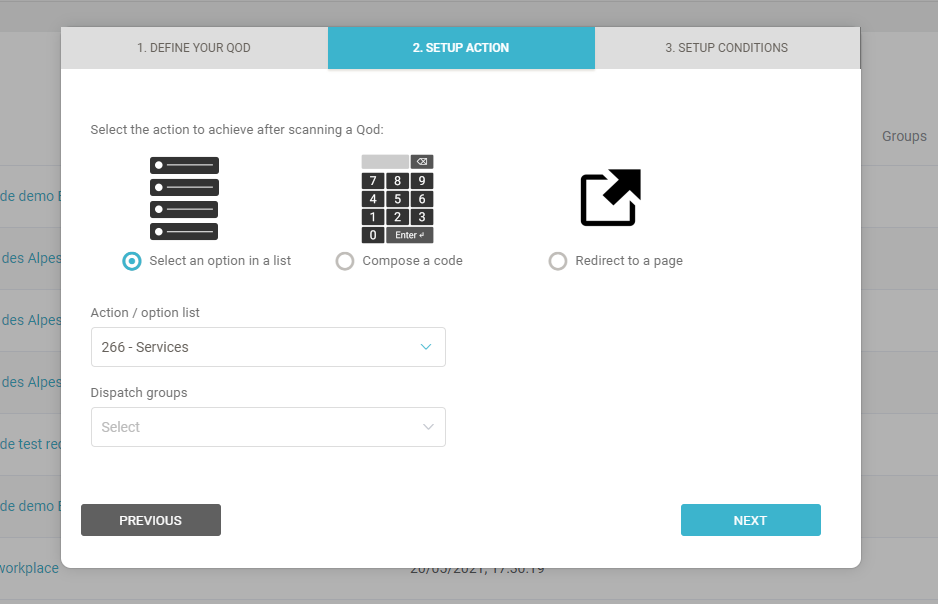 You want to use your own tools? With redirection, use Ubiqod in combination with Typeform, Google Forms or any other tool on the market.
Flexible pay-per-use pricing
Company life is hetcic. With Ubiqod, no more bad surprises: the renewal is done every 24 hours.
You can hang a QR code without being charged for it.
The cost of the platform is the lowest on the market: equipping a site with a QR code costs less than 1 eur / month (depending on the credit packages chosen).